TRI MONTAGNE MEMBER – AMELIA PEARSON
Quelle est la raison pour laquelle vous avez commencé à vous entraîner pour le triathlon?
Comme entraîneur du club Tri Montagne j'ai fait parti du club depuis le début.
Je ne m'entraîne plus expressément mais j'adore entraîner les autres – les débutants qui commence à se lancer dans le sport et les triathletes qui veulent ameliorer leur performance.
I'm the coach for Tri Montagne so I have been involved from the beginning. I don't specifically train for my self anymore but love to help others – from beginners making their way into the sport and experienced triathletes looking to improve their performances
Quand est-ce que vous êtes devenu membre du club/commencé à vous entraîner?
Why did you decide to start training for triathlons?
J'ai commence quand j'avais 15 ans.  Chez moi en Tasmanie, il y avait un triathlon en piscine et l'équipe de natation étaient encouragé à participer. Mon frère ainé participait en traithlon déjà donc j'ai decidé à l'essayer. J'ai l'adoré et continué en triathlon sans me retourner
I started triathlons when I was 15 years old. In my home town in Tasmania, there was a pool triathlon and everyone in my swim squad was encouraged to participate. My elder brother was already doing triathlons so I thought I'd have a go. I loved it and never looked back.
Quelle est votre discipline préférée?
What is your favourite discipline?
Je les aime toutes – c'est la combination de la natation, le vélò et la course à pied qui rend le triathlon si spécial. La clé est d'étre capable des les tous faire!
I love them all – it's the combination of the swim, the bike and the run that makes triathlon so special. The key is being able to do them all!
Qu'est ce vouz avez trouvé la plus difficile? Quels défis avez vous dû surmonter?
What have you found the hardest/what challenges have you had to overcome?
Le triathlon est trois sports dans un événement et pour cela il est dificile – si c'était facile, tout le monde le ferrait. Le triathlon peut se rendre plus facile. Si on entraîne les bases, on simplifie le défi.
Because it's 3 sports rolled into 1, triathlon is challenging. There's that saying, if it was easy everyone would be doing it. The thing is we can make triathlon easy. By training to do the basics well, we simplify the challenge.
Comment notre club a-t-il vous aidé à ameliorer?
How has the club helped you to improve?
Le club m'a permis de rendre/réinvestir au sport. J'avais de la chance comme compétiteur junior et senior d'avoir du soutien excellent, un coach excellent et des partenaires de formation motivants.
Si je peux aider aux autres à aimer le triathlon comme je l'aime, cela me rend super contente.
The club has allowed me to give something back to the sport. I was very fortunate as  junior and senior competitor to have excellent support, an excellent coach and great trainman partners. If I can help others enjoy triathlon as much I as I do then it makes me very happy.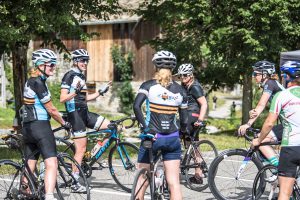 Qu'est ce qui vous plaît le mieux dans le dynamique du club et les membres du club?
J'adore la camaraderie dans le club. Il y a une diversité entres les sexes, âges et capacités des membres. Ce qui est super est que quoi qu'il soit les membres soutient l'un à l'autre. En triathlon, tout le monde qui participe est un championnat et cela est encouragé par le club .
I love the comradery in the club. There is a mix of genders, a mix of ages, a mix of abilities. The great thing is that everyone supports each other no matter what. In triathlons everyone that takes part is a winner and this is really encouraged in our club.
Quelle est votre réussite dont vous êtes la plus fière?

What is your greatest achievement so far?
Ma réussite dont je suis la plus fière et que d'une manière ou d'une autre j'ai fait partie du sport de triathlon pour 25 ans..
My greatest achievement is that I have been involved in the sport of triathlon in some way for almost 25 years……
Que diriez-vous à quelqu'un qui pense à s'inscrire au club?
What would you say to anyone thinking of joining?
SVP, n'hésitez pas!  Le plus qu'on est, le mieux. Le club offre un excellent endoit pour pratiquer pour les événements, de développer les capacités et le fitness. Je pense qu'on s'amuse bien aussi!
Please do. The more the merrier. It's a great way to practice for events, develop skills and fitness. I think we're a fun and friendly bunch too!