Merci à tous pour une saison incroyable!
Nous nous sommes bien amusés en 2018.  Les séances d'entraînement ont permis à des triathlètes de tous âges et tous niveaux de se rejoindre pour s'entraîner, apprendre et s'amuser à travers le triathlon.
Nos licenciés ont fait de nombreuses événements et ont fait des performances impressionnantes.  Nous sommes très fiers que tout le monde qui porte le tenu Tri Montagne le fait avec fierté et finit les courses avec une sourire.
Nous avons aussi aidé avec le premier Triathlon Morzine-Montriond au Lac de Montriond le 2 septembre.  L'événement sera reconduit l'année prochaine normalement le dimanche 2 septembre et nous encourageons tout le monde à y participer en tant que coureur ou signaleur/bénévole.
Thanks for a great season!
2018 has been lots of fun. Weekly training sessions have brought inspiring triathletes of all ages and levels together to train, learn and have fun in the sport of triathlon.
Members have attended many events and performed exceptionally well. We are most proud that everyone wearing the club colours does so with pride and finishes events with a smile on their face!
We also helped out with the inaugural Morzine-Montriond Triathlon held at Lac Montriond on 2 September. The event will be on again next year and we encourage everyone to become involved as either a participant or marshalling.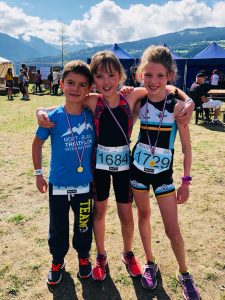 S'affilier au club pour 2019
Si vous souhaitez renouveler votre licence, il faudrait le faire avant le 31 décembre 2018 pour éviter des pénalités! Si vous renouveler votre licence, pas besoin de certificat médical car les certificats médicaux sont valables 3 ans en France.
Cliquez sur le lien ci-dessous et suivez les instructions:
www.trimontagne.com/fr/membership
Si vous souhaitez se licencier pour la première fois, cliquez sur le lien ci-dessous et suivez les instructions:
www.trimontagne.com/fr/membership
Membership for 2019
If you would like to renew your triathlon licence, you need to do so before 31st December 2018 to avoid late renewal penalties.
If renewing your licence, you won't need to get a medical certificate as certificates are now valid for 3 years in France.  Please go to this link and follow the instructions:
www.trimontagne.com/membership
If you would like to take a licence for the first time, please go to this link and follow the instructions:
www.trimontagne.com/membership