Kids Can Tri – Aix les Bains
Triathlon is for everyone and so is
Tri Montagne
! There are endless reasons why you and your family should give the sport a try. New events are popping up all over the region, including kids events, which complement some of the already established local Triathlons in the area. For details and link to local events take a look at
this link!
Over the next few weeks we have asked some of our club members to share their past experiences at some of the local events. Our first blog is from Ceri Nicol and is about the kids race at
Aix Les Bains
.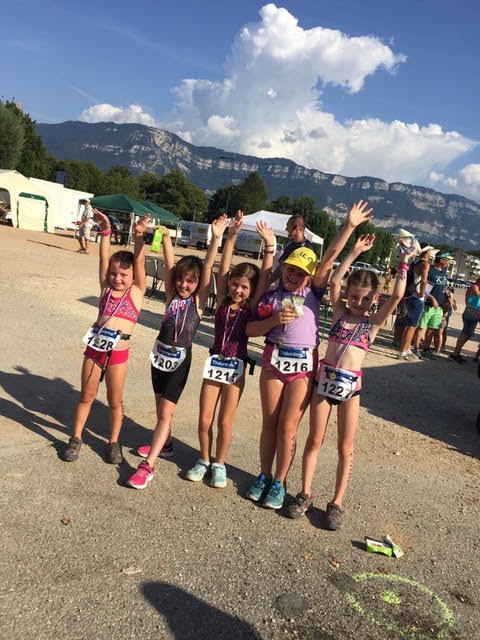 Aix Les Bains kids Triathlon by Ceri Nicol
Aix

les Bains
was the first Triathlon that my girls competed in. We chose it as we had heard good things about the 'child friendliness' from previous years and it was open to children from the age of 6.  It was a great introduction to Triathlons for the kids and we had five local girls taking part.  The format was a 50 metre open water swim, a 1km bike and a 500 metre run to finish.  We decided to stay in the campsite opposite the event so we could make a weekend of it and by the
Sunday
morning the girls were really excited to get started. It was a boiling hot day and I found myself to be more nervous for the girls doing this than when I compete myself!  Parents were not allowed in the transition area but there were plenty of officials on hand to give the children advice and any assistance they needed to rack their bikes and get all of their kit ready for the transition.  At the start time we all gathered on the banks of the lake whilst the official then walked the children through each stage, taking them all back into the transition area and walking them through the exits and entrances of the transition area for each stage of the triathlon.  I was really impressed by this; they had allowed plenty of time to make sure all the children were happy and ready to start without feeling rushed.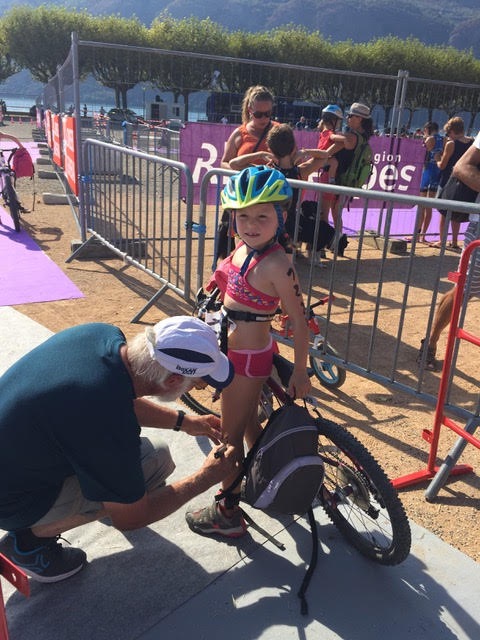 The help continued throughout the event and there were plenty officials in the water making sure all of the children were happy and safe.  There were also lots of officials available in the transition area during the race to help and guide the children in the right direction, reminding a few to do helmets up etc.  All of our girls finished and were so proud of themselves; they really enjoyed it.  My eldest said she found the swim a bit tough – not the distance but just the surprise of a mass start and another of our girls had a stitch but carried on regardless.  A few got their fat mountain bike tyres stuck in the bike racks but they all tried their hardest, enjoyed the whole event and were absolutely buzzing when they crossed the finish line.  We went home having had an amazing weekend and already planning the next event!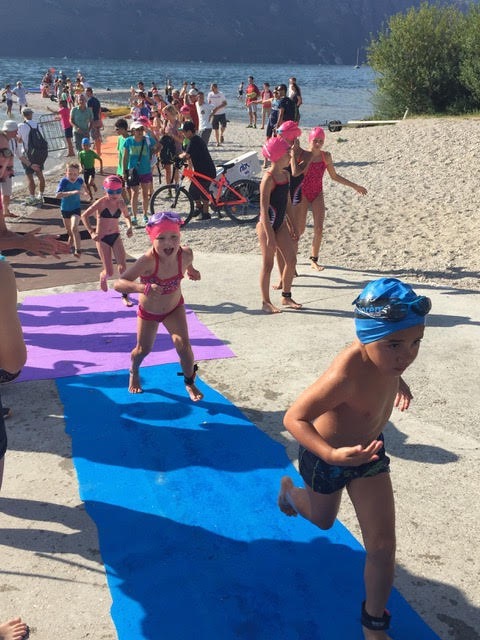 Kids Competing:
Isobel Nicol
Seren Dodd
Eva Jackson
Chloe Jex
Mia Nicol